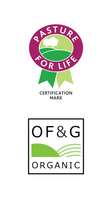 Our Cattle
Our pedigree Hereford cattle live as one family group all their lives. The calves are born on the farm and we apply the highest welfare principles to care for them all.
They live on a diet of fresh pastures, herbs, legumes and wildflowers only supplemented with our own organic hay and haylage in winter.
We are certified Pasture-for-Life and Organic. We feed NO grain. The resulting beef is nutrient dense, full of flavour and tender as the beef has been dry ageing for at least 28 days.
"I now wouldn't buy beef from anyone else!"

Sheila
"If you are going to eat beef, eat the best from Cotswold Beef"

Lilias
"The slow cooked joint today was a real winner with the family- melt in the mouth."

Ian
"The beef we bought from you was so delicious. We would love to order more!"

Anneke